WG1C LASER DIAMETER GAUGE
Datasheet
<![if !vml]>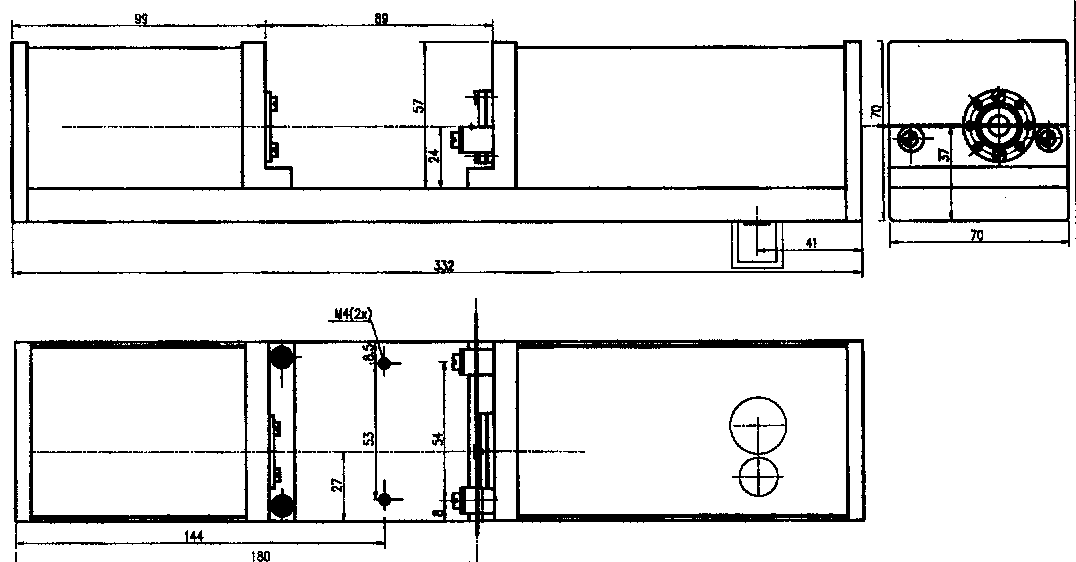 <![endif]>
The WG1C Laser Diameter Gauge continuously measures the diameter of thin cylindrical objects, typically wires or fibres.
The laser diffraction wire gauge consists of one or two measuring heads and an industrial computer based control unit. Distance between measuring head and the control unit can be up to 100 m.
Working principle:
The work piece to be measured is illuminated by a laser beam and the resulting diffraction pattern is detected by a CCD sensor array. The detector signal is digitised and evaluated by the Digital Signal Processor of the measuring head electronics.
The main functions of the equipment are the following:
Measurement:                    Continuous contact-less measurement and display of the outside diameter of the object
Display:                             Digital and chart recorder type display of actual and averaged diameters in mm and mg/200 mm units along with Cp and Cpk statistical data
Software::                         Statistical data evaluation and archiving software for handling the data of measured spools
Analogue output:               4-20 mA analogue output signal proportional to the measured diameter (e.g. for chart-recorder) (optional).
Special versions:
<![if !supportLists]>· <![endif]>XY measuring head for measuring oval objects
<![if !supportLists]>· <![endif]>Multiple Measuring Heads with one Control Unit
<![if !supportLists]>· <![endif]>Custom designs and individual software development
<![if !supportLists]>· <![endif]>Interface to spooling/drawing unit for automatic start and stop of spool evaluation
Typical applications:
<![if !supportLists]>· <![endif]>Measurement of tungsten an molybdenum wires
<![if !supportLists]>· <![endif]>Measurement of copper wires with and without insulating layer
Technical Specification
Measuring Head
Nominal measuring range .................................................. 10 - 300 mm<![if !supportFootnotes]>[1]<![endif]>
Resolution of size display ........................................................  0.01 mm
Relative reproducibility........................................................ +/- 0,15 % *
Achievable measuring accuracy........................................... +/- 0,2 % **
Measuring rate ............................  ca. 50 individual measurements/sec***
Ambient temperature .................................................  +10 oC ... +40 oC
Ambient humidity .................................................................  max 85 %
Temperature variation ....................................................  max 5 oC/hour
Required mechanical position accuracy of the object ..................  ±1 mm
Mounting direction ........................................................................  any
Degree of protection ...................................................................  IP 50
Control unit
<![if !vml]><![endif]>
Enclosure ................................................................................  RITTAL type AE 1360
Degree of protection ..........................................................................................  IP 54
Outside dimensions ..................................................................  600 x 600 x 350 mm
Weight ........................................................................................................  c.a. 45 kg
Power supply voltage .............................................................................  230V, 50 Hz
Power consumption ..................................................................................  ca. 350 VA
Shock protection ..............................................................................   Protective earth
Ambient temperature ....................................................................... +10 oC ... +40 oC
Ambient humidity ........................................................................................  max 85 %
Temperature variation ......................................................................  max. 10 oC/hour
Industrial PC:
Type:                                                   IPC WS-843W
CPU:                                                   PentiumÒ MMX 233 MHz
System Memory                                  64 MB
Drives:                                                 1 Floppy + 1 HDD
Display:                                               12.1" colour TFT LCD display
                                                            with back lighting
Resolution:                                          800 x 600
Keyboard:                                            49+10 keys membrane keyboard
Pointing device                                    Touch Pad
Operating system:                              Windows 95/98/ME
Analogue Outputs (optional)
Output range:                                      4 to 20 mA current loop
                                                            (other values optional)
Output drive current:                           ± 5 mA (max)
Current loop excitation voltage:          + 8 V (min), 36 V (max)
Settling time:                                       £ 60 ms
<![if !supportEmptyParas]> <![endif]>
                                                                   ã Cortex Ltd. 2002